Fellow Theater Blogger
Ken Davenport
released an Android version of the popular iPhone app "At The Booth" last month which, as you can guess, displays what shows are at the Times Square TKTS booth. The release led to some ridiculous complaints (If TKTS is so annoyed, why can't they just release their own app) and I downloaded it because a) I was curious, and b) it was 99 cents.
What is useful for me is not the feature that it's advertised for, but for this: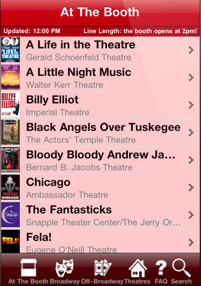 The app lets you see all current Broadway shows and the addresses of the theaters they are in (regardless of whether the show is available at TKTS)
No longer do I need to write each show's address in my Google Calendar.
And yeah, that's actually worth my 99 cents.