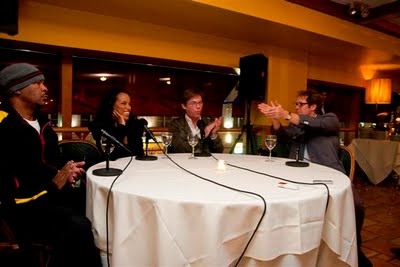 A few weeks ago I was invited to a blogger event with the cast of David Mamet's RACE:
No really, I was there. You can sort of see the edge of my hair behind
Byrne Harrison
: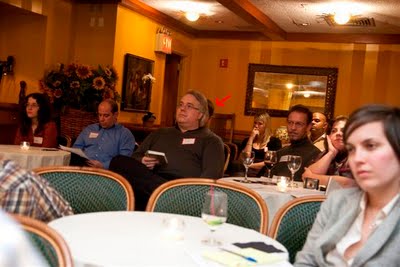 I hadn't posted much about it because it's a difficult play to talk about. Not because of the
Race
issue, but because of how the plot of the play is being kept under very, very tight wraps. So while you can hear the
podcast
of some of our interview with the cast, what we're learning about isn't the play, but what it's like to do a brand new Mamet play that's directed by Mamet as well.
I've recently acquired the taste for Mamet, so I'm interested. So there's a bit to learn from the new
Race Website
that recently launched. After you click "skip" on the always-obligatory-splash-screen, it gives you a bit of a hunt around a crime scene with pieces of plot from the play. Just like
getting to know every member of the Hair cast via small videos
, it's a nice change from the boring "Bios/Tickets/Production Photos" that most websites have been reverting to.