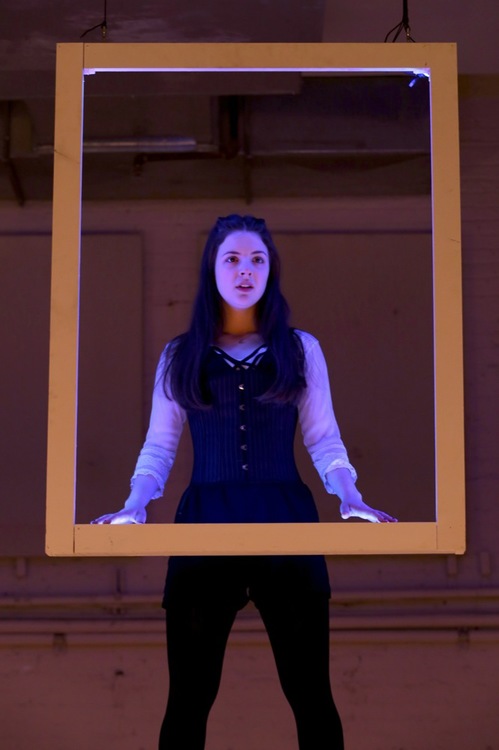 Shakespeare in the Square, a group of performers that originally began as an NYU student club, is exiting the university setting with a 2-hour (not counting intermission) production of the First Folio version of Romeo and Juliet, and the result is a swift production played by a cast of five that is one of the more captivating R&J's I've seen in years.
You may not be familiar with the first Folio—it's the version without the opening "Two Households" scene, so don't be alarmed if it feels that SITS has cut it. In fact, they haven't cut a single word of this edition—the two hours is performed at a speed that creates an energy matched by the excellent performances of this small troupe.
Being a cast of five, each obviously doubles or triples or quadruples in roles; of particular note are Jack De Sanz, who is hilarious as Juliet's nurse and equally wonderful as the Friar, and Constantine Malahias who has all the fun as Mercutio but changes himself completely to play Juliet's father and others. Each time either of these two actors are onstage they have reoriented their body stance, their every gesture to the point where you begin to lose count how many actors are actually in this troupe. Unfortunately this only underscores the occasional beginning-of-scene confusions as to who is playing who for some of the other actors, unless you know the play well enough. Director Dan Hasse has made much of the minimalist platforms in the Judson Gym and his staging is dynamic enough to make up for the sparseness, but he could have done well to have had costume designer Liz McGlone give Elise Kibler something visual to further distinguish her Benvolio from her heartbreaking, affecting Juliet.
The overall feel of the production is exciting, particularly the way it evokes the feel of a small Shakespearean troupe making the most of so little. Audience members sit directly on the stage, music is played leading up and during intermission, and you're bound to catch a cast member beginning a scene standing right behind you if you don't pay attention. Of course, this sort of ad-hoc approach is needed when you staunchly refuse to cut a material that sorely needs cutting, even if Hasse insists that cutting is a "crutch". In order to squeeze in under the two-hour wire, many of the excess repetitions in speech are simply sped-through, which is a disservice to a very talented troupe. There are two types of Shakespearean actors, those who convey the general meaning of the lines, and those who understand each word as if it were their first language, and SITS's comprising of the latter is what makes this production worth seeing.
ROMEO AND JULIET plays through February 8 2015 at The Gym at Judson.