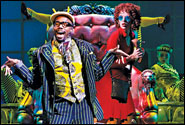 Supposedly going to Broadway directly after Tampa. Or so says
that magazine that insists on writing articles in sentence fragments
:
Frank Wildhorn tuner "Wonderland" has mapped out its path to Broadway, trying out in Tampa in January ahead of a Main Stem berth that begins perfs in March.

The legit "Alice in Wonderland" redux, subtitled "A New Alice. A New Musical Adventure," brings Lewis Carroll's highly recognizable property to the Rialto. Plot follows an adult Alice, whose perspective on the pressures of her career and her family life is changed by a trip through the looking glass.
So there you go. Unbridled proof that Germany really loves Alice in Wonderland.

Or something.