So Godspell announced that they're starting to do
DVD-like commentary
. This'll be on my listening queue today, but already I like the idea; I'm a huge fan of Broadway Insider podcasts, love Howard Sherman's
Downstage Center
podcasts (I highly suggest the
Marc Kudisch one
), and of course I miss our dear friend
Broadway Bullet
, so anytime new Broadway-insider podcasts pop up for me to listen it's a treat. I wish every show had these.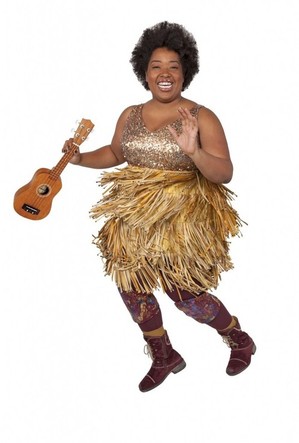 Meanwhile, Godspell's ridiculously talented Celisse Henderson has agreed to answer some less ridiculously-asked questions I asked after seeing a recent performance:
How did you get cast in this revival? How do auditions work for a part where you're essentially going to be playing you?
Well, the audition process for this show was like no other process I have ever been a part of. The initial audition and call backs all consisted of a mixture of things. We were all given three parables from the bible and asked to pick one and to create a performance art piece showcasing, humor, story telling ideas, special skills etc. I decided to take the parable THE GOOD SAMARITAN and rewrite it as a spoken word piece set to music on my Djembe. They like it enough to call me back! (Thankfully) So, every audition after that was similar....except we did the work in groups. You would be put into a group of 5 or 6 people, they would give you a parable, a basket of random props, and you were given 20 minutes to create! It was incredibly challenging and exciting, and luckily it worked out for me!
What were the rehearsal processes like; were things decided upon before you walked in, or did you and the rest of the cast come together to play with how different parables were to be presented in this production?
There were a bunch of structural things that had already been decided (all design aspects, some songs/parable that required a lot of theater magic etc) that weren't really up for debate, but everything else....ESPECIALLY the way the parables were to be presented was in our hands! Our director Danny Goldstein gave us some ideas, but ultimately we were given the license to play and see what came of it! We started day 1 diving into working and playing together and figuring out how to best tells these parables from our personal perspective! It was a blast!
It's a very high energy show. And you and the rest of your castmates hit the ground running the moment you step out. Is it easy to get your energy level up before stepping into the square, or do you have some methods to get you in that sort of mode?
That's a great question! Everybody is different. I actually spend time before the show bringing my energy down in a way. Because the show takes so much energy and focus, I think it is important to center that energy before you step out on stage. So, I usually say a little prayer with some fellow cast mates (one of my favorite moments every night backstage by the way) and while I'm waiting at my entrance door (after joking w/ George Salazar) I take deep, long, full breaths to prep for this huge, fast running train that I'm right about to hop on to!
The production seems like it changes night to night--I'm sure that those superbowl references weren't in the show on opening night. How much improv do you guys do, and how has the show evolved since the first performance? Is this the sort of show where you crack each other up?
There actually is not a ton of improv. The show has a very spontaneous feel as we do ABSOLUTELY do feed off of the energy one another and the audience every single night, but any major jokes, line changes etc are things that have been discussed before the show with our director and/or stage manager etc. As far as it's evolution is concerned it HAS changed a lot since our first performance. The beautiful thing about preview performances is that we get to come in with all of our ideas and essentially try them on audiences and usually you find out VERY quickly what works and what doesn't work. I work with such an amazing group of actors and we are lead by an incredible creative team so I believe that all parties involved were interested in constantly striving to make this show the best possible experience for the audience and I think we accomplished that!
Do you personally have a favorite part of the evening, either for you as a character/performer, or a part that would be your favorite just as an audience member?
My absolute FAVORITE part of the show is "Save the People". We start the show in these muted colors, spread all over the house spouting our different philosophies. Once it gets to the point that all we are doing is yelling at one another JOHN THE BAPTIST comes in and sings "PREPARE YE" and gives us the instructions to leave and come back prepared for something amazing. We well re- enter again, our only objective...is...JOY. It feels so good to run through the audience, down the stairs, to catch peoples eyes and to see the biggest smiles on peoples faces as they watch us discover one another and feel so happy because of it. It's just such a beautiful thing to run down to the stage and to spend the whole song spreading joy. Best. Moment. Ever.