Dear Reader,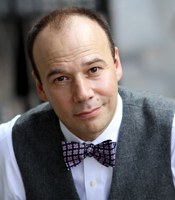 Summer is long past over, and this website doesn't get updated much when I'm in the middle of writing a musical, and for one of these two reasons you're sad. But cheer up, because
Danny Burstein
is back on Broadway and it's in a show that doesn't have the words "Women", "Verge", "Breakdown" or "Nervous" in the title!
Set in the vivid world of prizefighting's past,
GOLDEN BOY
, Clifford Odets' most popular play, is the story of Joe Bonaparte, a promising young violinist who forsakes his family and artistic dreams for the lure of fame and fortune in the ring.
I have a pair of tickets to give away for a performance through December 13th, so you have two chances to enter:
2. Comment on this post and say what part you'd like to see Danny Burstein to play. For example, "Edna Turnblad in Hairspray". Wait, is the hula dance in South Pacific the closest we've seen to Danny Burstein crossdressing?
Giveaway ends Thursday October 25th at 5pm.