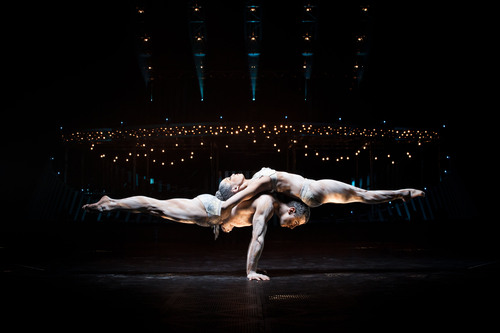 There is a joke about every Disney theme park ride in the world being the same thing over and over again, to the general tune of "you've been invited to experience a new creature/technology/magic/exotic locale, which should be a wonderful problem-free experience except for that SOMETHING HAS GONE HORRIBLY WRONG!". Having now seen four Cirque Du Somehow shows, I can attest that Cirque's formula is something more like "life is dull and drab, but nothing is dull and drab IN YOUR LSD-INFLUENCED DREAMS!". Fortunately the expert performers at Quidam are never anything short of jaw-dropping... and besides, it's not like formulaic plotlines have kept anyone off the Tower of Terror.
The premise of Quidam is something about a young girl whose parents ignore her and she is whisked away by people in hazmat suits to a magical land full of acrobats, master balancers, musclemen and clowns, where she carries around a red balloon possibly in search of her parents or maybe a headless man with a hat he doesn't know how to use. At least that's what I interpreted out of all the crazy theming and costumes and music, which all exists to add an aura of mystique to the various acts over the course of 2 hours. One thing I must absolutely commend Cirque this time around is how they've improved what they can accomplish in a touring space. Unlike Radio City's Zarkana which took the space over for months at a time, Quidam is only playing at the Barclays Center from July 24th-28th before it ships off to Florida and then elsewhere. The last time I saw a touring production--Saltimbanco in 2008--the fact that the set was temporary meant that hanging and trapeze tricks were minimal, out of necessity. As part of Quidam, a giant conveyor arc structure reaches across the ceiling, allowing the performers to move back and forth on suspended wires to perform some of the evening's biggest "wow" setpieces.
I only have one real complaint about Quidam--during act 2, the show takes a
comedic break
for a clown piece where a clown with an old-timey silent film projector encourages four hand-picked audience members to act out an old western. As I watched I realized--I had seen this bit before! Not only had I seen it just this Spring, but I had seen it done better and with less hurriedness by David Shiner, one of the best clowns of our generation, in Old Hats at the Signature! No doubt they licensed the bit from Shiner as Cirque had worked with him before, but perhaps to be fair, it's not like Shiner hadn't
stolen the bit from himself before
.
Anyway, the point is, if you've never seen Cirque show before, you've missed out on people who can balance on each other's shoulders four people high, or dangle from a scarf they hold onto only with their ankles, or jump rope so fast your eyes can't keep up. If you have, some of these trick will be repeats and whether you see Quidam depends on how interested you are in seeing the same sort of stunts again.