Some people (
Reidel
) keep complaining about the set/costumes not being literal enough. There aren't many pictures for us New Yorkers to begin making our customary premature judgments on yet, though, so I'll withhold on my
snarkiness
of that stuff till I see the show in December.
Among the list I hadn't seen a photo of Sherie Rene until I opened up a copy of Variety in print. Since I haven't found this picture anywhere on the
interwebses
yet, I thought I'd (
crappily
) scan it: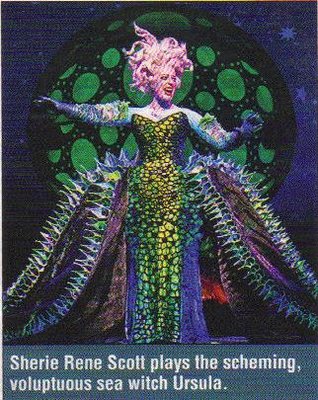 Doesn't she look delicious?
I don't mean that in a sexual or homosexual way. I mean that in a literal way: she looks delicious. As in, like some sort of really fresh seafood I would happily order at "Mickey and Shmicky's".
Maybe in
The Little Mermaid 3: Journey to the Land of Sushi
, Ursula has mended her ways and Ariel, Flounder, and Herpes The Lobster have to save her from becoming a
delectable entree
.