For my first NYMF 2009 outing I chose FAT CAMP, a musical about, duh, a bunch of kids' summer in a fat camp.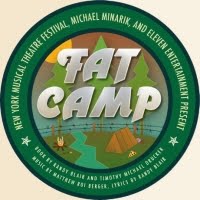 I didn't see this show because I particularly wanted to see a show about a Fat Camp. Having had a
musical of my own
in in NYMF, I've learned that picking NYMF shows is a crapshoot. So yes, my process for picking an NYMF show involves looking for subjects that jump out at me as clever/funny/something I'm interested in. But more often nowadays, I go with shows with cast members that I would enjoy seeing even if the show ends up being bad. My pick of FAT CAMP was a mix of Spelling Bee's
Sarah Saltzberg
and Hairspray/Batboy's
Carly Jibson
, followed by the fact that I've never *not* enjoyed
Alex Timbers
' direction and this outing was no exception.
For NYMF standards, FAT CAMP is a winner (and I'll explain that qualification in a second). I went in bracing myself for another stupid "it's important to not judge a book by its cover" message, and to my pleasant surprised I was served up very little of that cliche crap at all. Instead it was more a musical about "sleepaway" Summer Camp, with some heart to it that did in fact bring me back to memories of my own summer camp; the "fat" part was just a detail to the story. Carly Jibson steals the show as the most hysterical white-camper-with-a-penchant-for-black-men you've met, and Randy Blair (who also wrote the lyrics and co-wrote the book) plays the main romantic male in a way that was sometimes a little one-note, but other times was raw and emotional in a way that could only be done by an author who, I assume, had a love for summer camps himself.
And then there's
Sarah Saltzberg
. Who does a fine job, but is woefully underused. Her subplot as a female counselor who is having difficulties with her jerk fiancee is one that could be dropped from the show, along with a subplot about a camper whose mom won't let go, a subplot about a former fatty who is now buff, and a subplot about a girl with a lisp who isn't sure if she should spy on a counselor's behalf, and a subplot about a cheerleader who starts to see the romantic male lead as the guy who he really is... it's too many subplots, and too thin. Which is a shame because underneath is a very very funny 2 hour 20 minute show with about 1 hour and 50 minutes of fun material. And a cast of characters I enjoyed so much, that I was disappointed that there wasn't some hysterical "what happened to the characters after the movie was over" style of epilogue at the end.
Fat Camp is what I consider a success for NYMF standards. You're never going to see a perfect musical at NYMF. The Next Link shows (Fat Camp is one of them) are chosen out of a pool of blind submissions and are usually being performed for the first time (last night was actually the very first NYMF performance), and the Invited shows are shows that still need developmental work and a few more audiences. The question is whether a show you're seeing in NYMF has *promise*. Fat Camp does, and the job of round 2 seems easy: cut out the parts that don't work onstage, thereby tightening and shortening the show, clarify a few plot points about a love story that waffles a bit too much in Act 2, and they're golden. But being that this is the first time in front of the audience, and with zero preview time for rewrites etc, you can't get that done in an NYMF show. So here's to future productions of a very fun musical.
On a separate note: I'd like to talk about the character played by
Ryah Nixon
.
This sounds terrible but when I saw the "fat campers" get onstage in minute 1, I pointed at her and whispered to my friend, "what the hell is she doing at a fat camp?" Fine she's not a size zero. But she's not only not-overweight, but was the thinnest character at the Fat Camp. I mean look at her, she's gorgeous: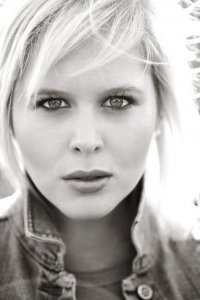 And then later on you find out that she's the romantic female lead. Is this the same problem in Broadway Musicals as it is in film? It's okay to have an overweight guy be the romantic male lead, but not an actually-overweight girl--not even in a musical called "Fat Camp"? Hairspray aside, the only film I can even think of with an overweight female lead is Shallow Hal. And frankly I don't think that counts, because you see more Normal Gwenyth Paltrow than Prosthetic Gwenyth Paltrow.
I just thought it was interesting that in order to make a female character the romantic lead at a fat camp, they had to choose the one who isn't actually overweight.