The American Theatre Wing is releasing a book called
The Play That Changed My Life
, which is exactly what it sounds like. They're also running a
contest
During the Tony Awards this past year, they asked a variety of theatre people what play changed their life, and you can find a variety of quotes on other theatre blogs. Here's what
Marc Kudisch
responded with:
"When I was kid, I wasn't into the theatre. It wasn't anything I wanted to do. I was a political science major in college. But I did a musical in my senior year of high school, I was in the gifted program, I was president of the Spanish Club for two years running, but I did a musical because I just was like, "I gotta do something in high school that other kids do before I leave." And I did My Fair Lady. Okay? I was Freddy Eynsford-Hill. And I was awful. But there was something about that form of expression that I found really exciting. I remember the first time I ever saw the Tony Awards was when Les Mis was performing their number. And I didn't know that you could sort of do that with music theatre. It was, "Do you hear the people sing?," the end of the first act. I found it incredibly exciting. And it was this dramatic material; I didn't know you could do that. And when I got into college I started studying theatre, as a respite for my political science courses. Now when I went to college I had some amazing professors. I had Hume Cronyn as a professor, I had Zoe Caldwell as a professor, I had – on his last good days – Joshua Logan. And all of my teachers were like lions in the theatre in the '50s and '60s. So I got this huge rush of information about classic theatre from all of these brilliant people. Who's Afraid of Virginia Woolf! Edward Albee was a professor, a directing teacher of mine for a semester at my university. I would say Who's Afraid of Virgina Woolf? was the play that really changed my full conception of what the theatre is and could be. That was the most moving thing I had ever read. I was an Albee freak when I was in college. And an Arthur Kopit freak, I just loved the dissonance in what they wrote. The fact that they could satirize society the way that they were in entertainment form, just struck me in such a way that that's what I always try to do, no matter what I'm doing: whether it be a light piece of musical comedy or a darker musical, and I've done them all. But I always love the idea of that satirizing society; it's just brilliant to me."
Mine was

Fiddler On The Roof
. Not the show, but the cassette: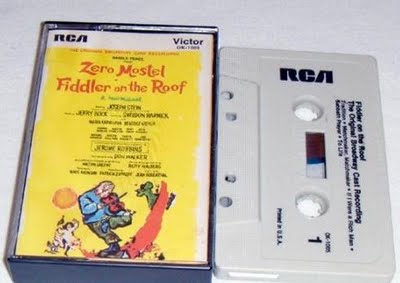 I was maybe 5 years old, and every time I got into the car with my grandfather he would put in this audio cassette of Zero Mostel in "Fiddler on the Roof". The whole thing confused me… why were there multiple people in songs
talking
to each other? Why were people each other's wives and daughters and fathers
inside
a song—that was for movies and tv, didn't they know that? And who was this crazy man screaming and squawking like a chicken in the middle of his singing? I didn't know what a musical was. But I instantly understood that all of these ideas and emotions and pieces of comedy were amplified through music as part of the performance.
It's true, until this day, I haven't seen a single production of Fiddler that's as fantastic as my five year old mind made it out to be. Perhaps it's the fact that I never got to see Zero Mostel in the part. Or maybe it's that when I finally *did* see Fiddler on the Roof not-on-cassette, it turned out that the hissing didn't happen the entire play, which made the flaws in the show easier to hear. Or maybe it's the fact that nothing could be as good as this image of perfection in my mind, and so I was going to be disappointed no matter what.
Oh... I'm suddenly understanding why I'm so cynical. Wow, this is like therapy at the price of $9.99/year for domain name costs!