First off, business: my musical "The Zegend of Lelda" won 4 of the 7
awards
at this year's West Village Musical Theatre Festival including "Best Musical". Congratulations and thanks to the cast/crew. If you'd like to find out about the upcoming full production,
"like" our Facebook page
.
So there's a new production of Rent opening off-Broadway any minute now. And by "new", I mean "not at all new in the slightest". From everything I've been finding about it, we are seeing the '90s production perfectly copied for tourist consumption, a la the Les Mis rerun a couple of years back. No new ideas, no new staging, no re-envisioning of any sort, not even a Logo modification. The same old great direction by Michael Greif of the same pulitzer-winning, game-changing, deeply-flawed musical.
I'm disappointed that we're not getting better.
Not to discount what Michael Greif did with a musical that is arguably unfinished. He brought coherency to a show that has so much going for it, but is a rather diifficult to control.
Act 1 takes place over the course of 3 short hours where people somehow meet, fall in love, get into an argument, break up, and get back together. Despite such over-the-topness, I'd venture to say Act 1 is one of my favorite Act 1's in musical theatre, much like how many people are happy to leave The Fantasticks or Into The Woods at intermission.
Act 2 takes place over the course of almost 3,000 times the elapsed timespan of Act 1. The script attempts to compensate for this breakneck speed by constantly reminding the audience that it's Fall, or New Years, or whatever holiday will help you figure out why that happy couple from the last scene is now suddenly pissy at each other. Or that enough months have passed for Roger to have traded in his guitar for a car, driven to Santa Fe, had a life experience, driven back to Manhattan, and traded the car in for a guitar again. These are the types of things a reimagined version of Rent could have tackled, building on the work that Greif did in the original production. No, not reimagined like that recent "Rent Remixed" abomination in London. More like, Rent directed by David Cromer.
In his Our Town, Cromer went back to the theatricality of the show and took it a step further, a step rawer. For that show this was done by removing costumes and set entirely. In Rent, I wonder if the same thing can be accomplished by getting rid of the chorus, whose solo bit parts could be filled in by the 8 main cast members. Leave the cast members onstage or visibly on the sidelines for more/most of the show and embrace even more of the theatricality where tables represent doors, head-mics that are clearly visible, etc. And don't worry about what month it is because when you can visibly see the characters onstage for more of act 2, you get a better sense of the relationships, which is what Act 2's focus really ought to be about. Frankly, I'd figured they'd have gotten rid of the chorus anyway for Off-Broadway financials.
These are the sorts of things that could have been solved in a movie version of Rent, perhaps if Spike Lee had directed it instead of Christopher Columbus. But Rent's script is now essentially frozen for the next few decades, so the only way to get another crack at it is a new take on the direction. Just not in this Off-Broadway run. Sadly, we'll have to wait for the inevitable
Meiner Chocolate Factory
production.
One last bit: when seeing NYTW's "Peter and the Starcatcher", I spent half the time staring at Peter (Adam Chanler-Berat, below) and thinking, "My god, he's a Jonathan Larson ringer, somebody quick, do a production of Tick Tick Book with him."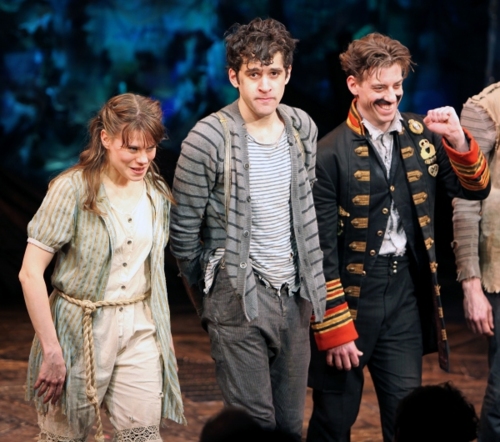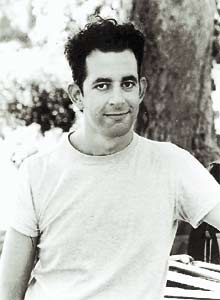 Well don't you know it, he's playing Mark. So maybe I will see it.