I'm trying something different with the HTMLing this week. Let me know if it works better or worse for you.
SMASH ABRIDGED EPISODE 6:
(PRAY FOR) CHEMISTRY
Scene: previously on smash
will chase and grace

(played tonsil hockey)

nothing else particularly interesting

(happened over the course of the entire hour)
scene: REHEARSAL OF COURSE, WHERE MEGAN HILTY IS FUCKING SINGING "Let me BE your fucking star" a-fucking-gain.

PROMOTIONAL MATERIAL

EVERY WEEK IT'S A NEW CHAPTER IN THE BATTLE OF MEGAN HILTY VS. KATHARINE MCPHEE FOR MARILYN MONROE!

megan hilTy

(somehow with even more cleavage than last week?)

Still? I look the part, sing the part, act the part and, well, technically *have* the part of Marilyn Monroe! There IS no actual battle. What is so hard for everybody to underst--

megan hilty's singing voice

(makes froggie noises)

MEGAN HILTY

Deux Ex Machina? REALLY Theresa Rebeck?

smash creator theresa rebeck

Singers lose their voice all the time! It's dramatically exciting!
MEGAN HILTY

Exciting when it happens in episode 11 and the understudy has to take over in a thrilling tour-de-force. Not in episode SIX.

SMASH creator THERESA REBECK

(sobs)

I've never seen a musical in my life.
Rehearsing happens.

and grace

So let's put this song over here and this scene over here... or we can switch it so this scene goes here and this song goes here?
jack davenport

Wanker! It doesn't matter which order you put it in, either way these songs cannot possibly make for a compelling or enjoyable piece of staged musical theatre!

christian borle

Wait, now we're actually *admitting* that if this hits real Broadway it'll be a piece of shit? Like, openly? Wow.

Suddenly Katharine McPhee gets confused and thinks she's in a Shakespeare play, so she hides behind a large setpiece to eavesdrop.
JACK DAVENPORT

Maybe we should start preparing Katharine McPhee to be Marilyn?
CHRISTIAN BORLE

Only if you promise you won't go through all this trouble just to find that at the end, about as much has changed as in an episode of Full House.
JACK DAVENPORT

I... I can't make that promise at all.

scene: anjelica huston is too poor to pay for the videogame she'd short-circuit if she threw a martini at it.

anjelica huston

Look, I randomly have an investor now!

sudden investor

Hi.

that assistant with the endless shit-eating grin

I no longer seem to be doing anything remotely related to being Christian Borle's assistant. So why don't I can help you get an apartment?

ANJELICA HUSTON

That's great! It's not like I know how to find a real estate office OH RIGHT THERE'S ONE EVERY BLOCK BECAUSE THIS IS NEW YORK FUCKING CITY.
Now let me PANDER to people who play videogames.

Anjelica Houston plays a shooting videogame for the rest of the night.
This is Vitally Important because IN THE FINAL EPISODE SHE KILLS THE WHOLE CAST WITH A SHOTGUN when she LOSES THE DIVORCE PROCEEDINGS.

Sorry... should that have been a #SpoilerAlert?


scene: debra messing's house.

kid who can't act

Mom you're burning the pancakes.

AND GRACE

I'm sorry, I was busy daydreaming about the previous episode. I've read the script for this one, and it's actually worse!
Brian D'Arcy James comes home.

shrek without makeup

My flight arrived early! The captain said my eyebrows made the plane extra-aerodynamic.

KID WHO CAN'T ACT

I'm ssooooooo glad you're home, because I'm sssoooo angry about Mom cheating on you!

SHREK WITHOUT MAKEUP

I should go away more often.
KID WHO CAN'T ACT

No, dddooonnnntttt.
AND GRACE

Watch your subtlety, young man!

bernard telsey, casting director for "smash"

What the fuck is subtlety?

scene: katharine mcphee's apartment.

shot of katharine mcphee holding a black dress in her right hand.

katharine mcphee

Do you like this dress?

without a shot to break it up, cut directly to:

shot of kathArine mcphee holding the same blacK dress in her right hand.

katharine mcphee's boyfriend

Whoa. Your dress suddenly moved from one hand to the other out of nowhere like magic!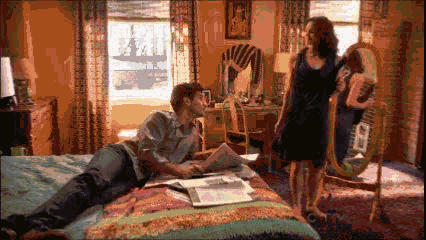 kathArine mcphee

That's not magic. That's a show so sloppily produced, Debra Messing's son had to do all the editing.
KID WHO CAN'T ACT

Surprise, I also can't edit!

scene: christian borle's apartment.

christian borle
The gay guy I'm dating only JUST came out to his mother!

and grace

...

CHRISTIAN BORLE

THIS IS A BIG DEAL.
and grace

...you're aware that barely any straight people in America understand why, right?

CHRISTIAN BORLE

Oh, well that's all I got for this episode. You?

AND GRACE

Will Chase kissed me last night. And then he broke out into song.
christian borle

Great, now we're ACKNOWLEDGING that people break out into a jukebox musical.
and grace

And a whole bunch of music filled the air from what sounded like a recording studio--it was WEIRD!

CHRISTIAN BORLE

That still doesn't explain why now he's acting like he's going to rape you.
scene: mhilty201 makes a youtube of herself lipsyncing a jessie j song in her bedroom.
MEGAN HILTY

Katharine McPhee! What are you doing in my magic mirror?

KATHARINE MCPHEE in a silly halloween outfit

I wanted to remind everybody how silly I look dressed like Marilyn Monroe. Also I'm PANDERING to those viewers who still think I should play Marilyn.

CHRISTIAN BORLE

Don't worry Megan I'm here to comfort you!

that black gay guy

MY HAT IS BACKWARDS CAUSE I ENJOY THE HOCKEY RANGER TEAM. GO GAMES OF SPORTS!

CHRISTIAN BORLE

Never mind I'm leaving.

scene: let's DO A BAR MITZVAH SCENE AND PRAY THAT WE ARE PANDERING TO JEWS?

You know how when you're watching a mediocre television show, you occasionally look at a moment and say, "this has to be the worst part of the series?" You look at a particular scene and go, "there is no way it could possibly get worse than this?"

If that moment was a moment other than any of this satelite-feed/DVR-space-wasting crap:

KATHARINE MCPHEE

(with inexplicable female chorus backup)

Hello BAR MITZVAH are you ready to rock?
Halavah Nargilah!
BLAH BLAH BLAH BLAH!
You Bar Mitzvah kids like Florence and the Machine right?
...then you were WRONG.

scene: the rehearsal space, late at night.
and grace

Getting from Tribeca to Shetler in a nightshirt was creepy! That cabbie--

WILL CHASE as an asshole

Shhh.

He takes his shirt off, PANDERING to the sort of women who watch this show unironically.
WILL CHASE AS AN ASSHOLE

Now take your top off in front of these huge windows just to make sure the audience knows that not a single one of the writers has ever lived in Manhattan.
She does, PANDERING to all the Will and Grace fans who... wanted... to know what a middle-aged Grace's back looked like?

WILL CHASE AS AN ASSHOLE

This moment is perfect. If only we had onscreen chemistry...

AND GRACE

...instead of looking like we're trying to figure out what insect is on each other's foreheads!

They keep their pants on, so obviously they don't have sex.

They just kiss topless. And dryhump some.
SCENE: REHEARSAL.

jack davenport

(holding papers)

Everybody, here are new lyric sheets that I'm not passing out. NOW SING!
MEGAN HILTY

HOW DO YOU DARE EXPECT ME TO SING A SONG WHEN YOU DON'T EVEN HAND ME THE LYRICS!
(storms out)

JACK DAVENPORT

Everybody else in this series seems to be able to break out into song without a problem.
ANJELICA HUSTON

WELL THAT WAS A BIT OF UNSCRIPTED DRAMA TODAY.
By which I mean I've used deductive reasoning to conclude that we don't actually have writers anymore.
nbc announcer

Join us next week, when--

audience

No way.
We gave it six episodes, and this is that breaking point--

NBC ANNOUNCER

--when Broadway legend Bernadette Peters guest stars!

Audience

...
...
NBC ANNOUNCER

PANDER!

AUDIENCE

Dammit. Fuck you, Smash.
(begrudgingly tunes in next week)

blackout.